1- The current "Show Lay-out" is as follows:
Standard Lay-out
Lay-out Description
Lay-out Tables
Inner Track Option
Middle Track Option
Outer Track Option
Dimensions for Show or Media Use
2008 GBLT&C Dimensions
2- All buildings should be modular in nature and fit on either a 10″ x 10″(32 Stud) or 15″ x 15″ (48 Stud) base plate.
3- The preferable method for roads is SNOT. See Section 8 below. the use of SNOT roads is currently not used though it may return
4- Members should plan on bringing their own tables following this style: http://www.michlug.org/resources/tabledrawings/ or make arrangements to use portions of other member's tables. The club now owns it's own club tables which are used for large scale track layouts so members do not need to bring tables to the shows.
Show Table Configuration Diagram
5- Track Alignment: In order for the current LEGO train track geometry to be symmetrical all track must be on either the 5th or 21st stud. This is consistant with the ILTCO standards set fort for Intergroup displays, as documented in Issue #4, of the RailBricks Magazine
6- Track Height: All track should be placed on a baseplate elevated by one plate (1/3 of a brick).
7a- Inner Loop Track Tunnels should be 14 bricks high (Minimum) and be 12 studs wide (minimum). Please see 7c
7b- Outer Loop Track Tunnels should be 17 bricks high (Minimum) and be 12 studs wide (minimum). Please see 7c
7c-This is the standard arch piece for bridges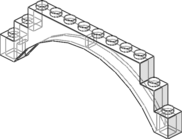 and then place a 1×2 inverted slope

on the base to make it a full 12 studs wide.
8- Snot Roads for 4 lane on a 48×48: Starting at the edge, 2 studs for the building to sit on, 6 studs of sidewalk that is 1 brick with tile on top. The road is 1 plate edge (white) 6 bricks per lane. Then a dashed line that is 1 plate 1×2 white and 1×4 black alternating. Then 6 bricks for second lane. Then 3 plates to make the center divider. Read this backwards to complete it out to the far edge.
Inventory List for SNOT Road
Snot Road Inventory