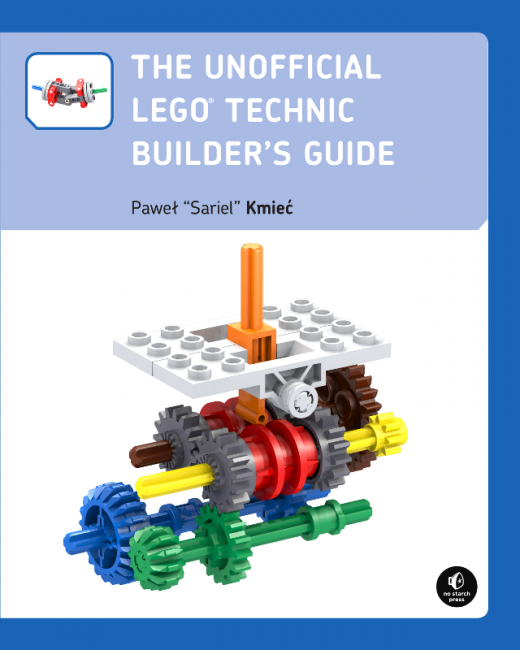 Those who build with LEGO Technic will recognize the name Pawel "Sariel" Kmiec. Sariel, is a prolific Technic builder, whose creations range from innovative techniques to completed realistic builds which impress even the most jaded Technic fan. For a long Time now Sariel has been documenting his builds on his website (Sariel.pl), Now Sariel has taken the genius behind those creations and put it in book form so that everyone can learn from a master and improve their own Technic builds.
The Book "The Unofficial LEGO Technic Builder's Guide" takes Technic building to a whole new level. Sariel begins the book with a simple but necessary physics lesson covering topics the basics of Speed, Torque, and Power then quickly moving to mechanical topics like turning radius, weight distribution and center of gravity. Then the best part, Chapter 8, "Custom Mechanical Solutions" covers stepper motors, Scotch Yokes, and oldham Couplings, and even a recreation of da Vinci's Leaf Spring Catapult. It's a veritable treasure trove of engineering knowledge.
But what if you've got those mastered, Don't Fret, There's More, with chapters covering the modeling process, deciding on form over function and how to scale your model.
The information is presented in a logical flow, that makes it easy to understand. Printed in Full color, the diagrams are easy to understand and fun to look at. I can not recommend it enough, Go Go now and buy yourself a copy!
You can order your copy directly from no-starch press, or if you prefer Amazon.com